25 Ballarat fish and chips shops tested, over quite a few months!
So, just to pre-empt any complaints, this is where I am coming from..
I'm not a photographer. Pics were mostly taken in my car at night. Pics are just to portray portion size
While value is important, I feel that all the portion sizes were plenty for one person, and none were enough for two adults
I ask for "well done" because that is my preference. A good takeaway shop should be able to achieve this. It also gives them a better chance of…
I don't want flabby fish. I want to hold it vertically from the base and for it stay upright – the "bend test". This is properly cooked battered fish
I chose times that weren't busy, so no Friday nights
I always asked for "flake and minimum chips". If they offered me a smaller option, I took it
Regarding the ratings, the best I've ever had was in NZ and Vancouver Island, 9/10. I've had a few 8s but that would be rare. 3/10 would mean one component is inedible.
BTW, Time Out have ranked the best fish and chip shops in Melbourne, but I guess they didn't visit every one. I ate at Tommy Ruff in Prahran and gave it 7/10.
NOT TESTED
Rubicon Fish Shop in Sebastopol. I had chips there an year ago and they were dried up and inedible, so I was dreading returning. Then their pay rates made the news in March 2017 so I haven't been back.
Pubs and Restaurants – unless I knew they were cheap, like the Blue Bell Hotel.
Corner Stores that also do hot food in bain maries
JOINT WINNER – NORTHWAY FISH HOUSE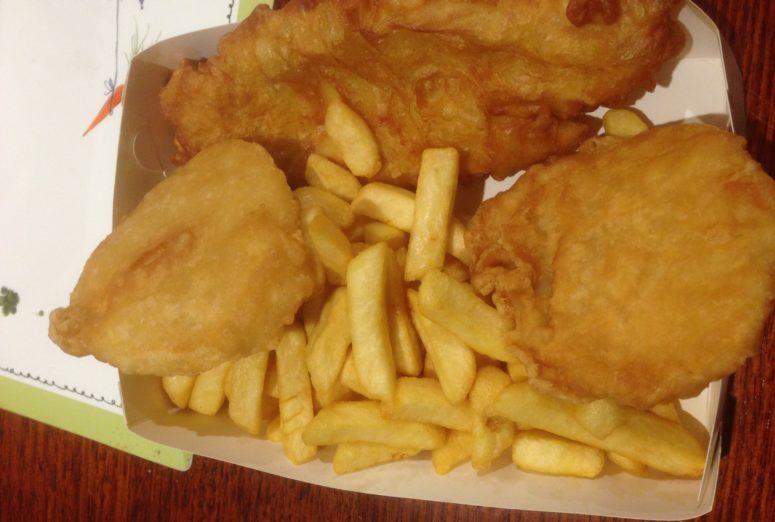 I visited twice for the purposes of a review, but had been there many times before, and their consistency is amazing.. They have a lot of staff because they are always busy. They also have a Fish House at Bakery Hill, also reviewed, where the quality is just as good.
Visit one, pictured above is the $8 lunch pack of fish, chips, 2 potato cakes and a can of drink. Available at night if you ask for it.
The meal took 6 minutes, and was properly well done and tasty. 7/10 and equal with Fair Dinkum
Visit two, pic below.  $9.50 for a flake and minimum chips. 9 minutes.  Portion size is fine, although the fish is a little bit on the thin side. The batter is not the type that goes crispy. The food is tasty, which I presume is down to the oil they use. 6/10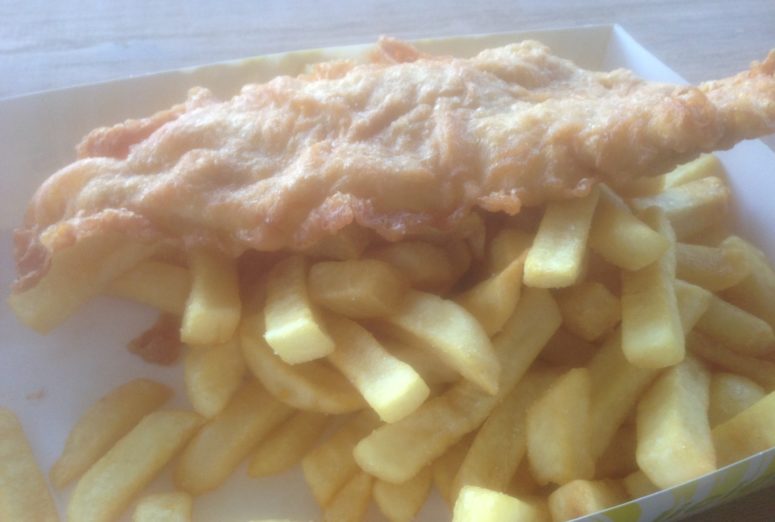 JOINT WINNER (but since closed down) FAIR DINKUM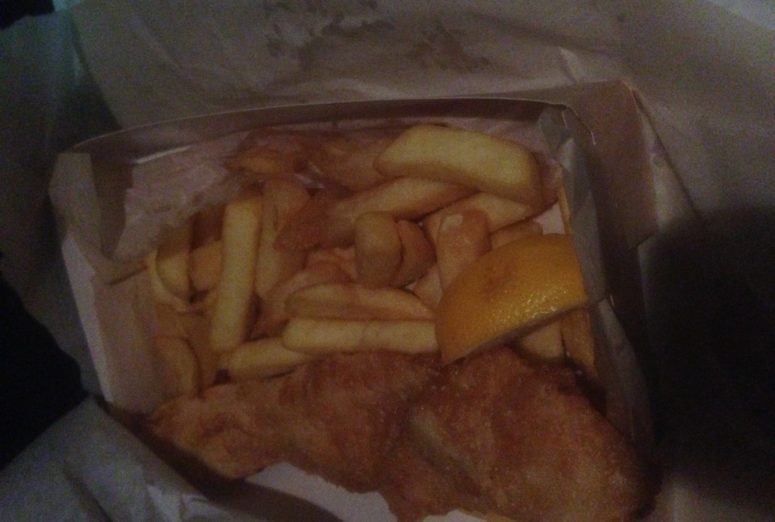 (there are more chips underneath the fish…)
First visit, pic above, I bought the $6 lunch deal (still flake and chips, but smaller). The regular price is $8.
Although it only took 6 minutes, the order was well done, as requested.
Fish was a little on the thin side, but very tasty. The batter was some sort of crumbed/battered hybrid, which I liked. And it almost passed the bend test! 7/10
Second time, pic below around the chips were amazing – caramelised without getting dry, dark golden and tasty. Portion size was good considering I bought the half chips ($8 total). Cooking time was poor – 13 minutes, and not particularly busy. The fish was ordinary, only average in Ballarat terms. Not terrible, but no aspect worth mentioning. 6/10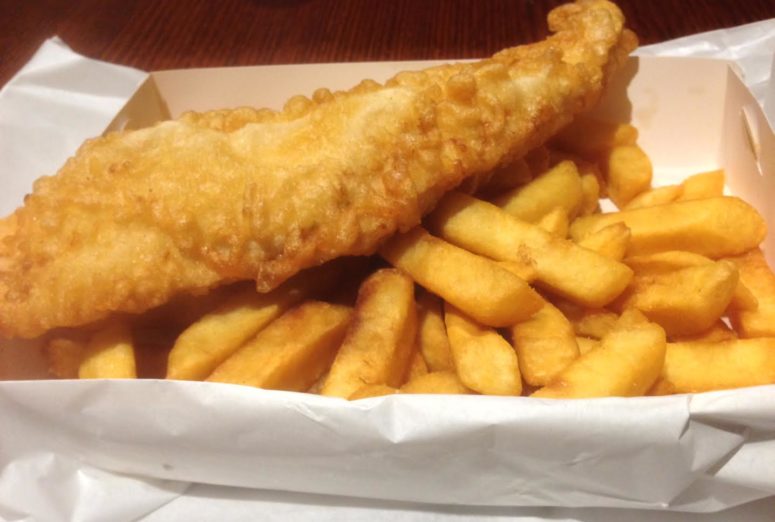 RUNNER UP – WILLIE'S TAKEAWAY
New management of an existing fish and chip shop. When I went their under their previous guise they were out of fish, so the change doesn't surprise.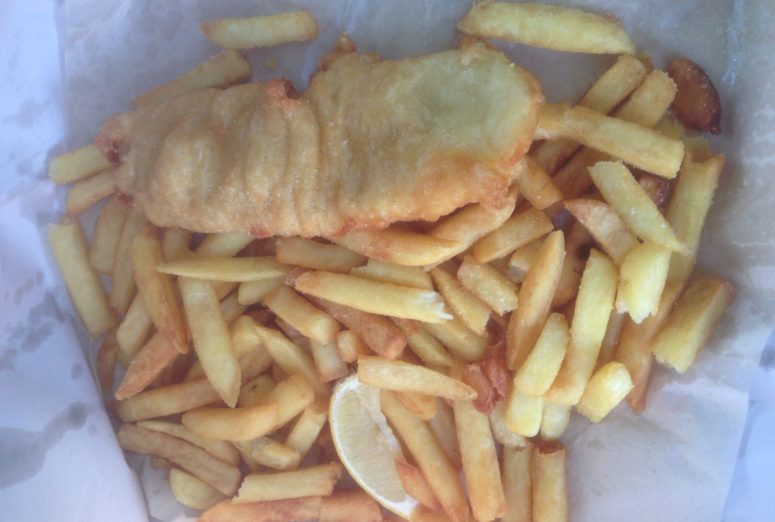 What does surprise is the quality. I asked for "well done" as always and this was noted by the cook (who didn't take the order). Eleven minutes later I had one of the tastiest meals of this marathon test. The chips were the best I have had in Ballarat – crispy on the outside, fluffy inside, with plenty of variety and not too much salt. The fish only just failed the standing up test, but it was thick and tasty. The oil they use is delicious. $8.50. 7/10
If the batter was crispy, they would be my clear favourites in Ballarat.
In the finalist round, pic below, not so good. Either I got it wrong the first time, or the name has changed to Willo's and they have new owners again. Prices have gone up, now $9.50 for flake and chips. Chips were excellent once again, and the fish, although tasty, was thin and fell apart. Not what expect from 10 minutes of "well done" when they are not busy. 6/10
THESE ARE QUITE GOOD
Midvale Chicken Spot – Mt Clear
I only found this place by accident when I visited the fish and chips shop in the same small shopping centre. Technically it is a chicken and chips shop, but they do fish.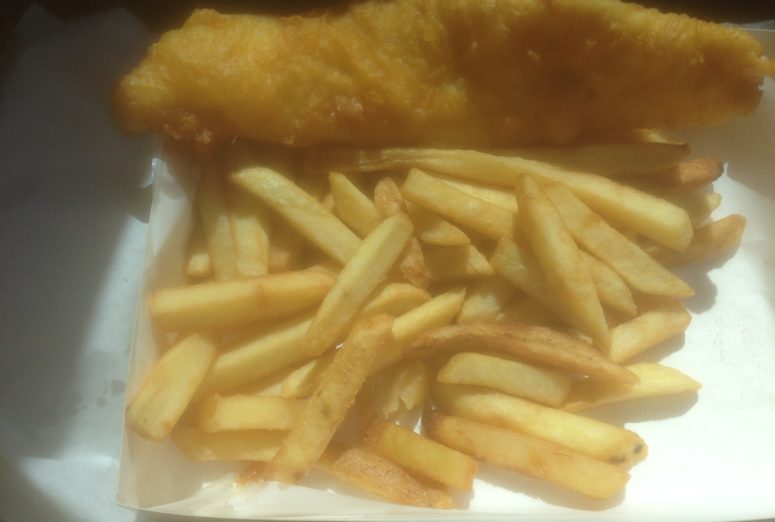 $8.90, took 7 minutes. They were quite busy for 3pm on a Wednesday.
The fish batter was tasty and crispy and almost passed the bend test. Chips were quite nice. Portion size was normal and the fish was slightly on the thick side (which is good). 6/10
Lucas Fish and Chips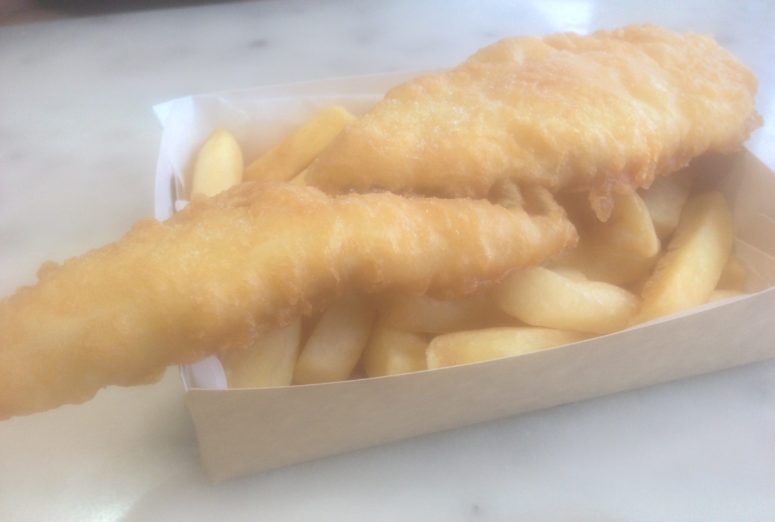 Cooking time was quick, a mere 6.5 minutes. Yet the meal was definitely "well done"  and the fish stood up to the bend test. The chips were the chunkiest in Ballarat, but still tasted nice and were perfectly cooked – non-exceptional but easy to polish off.
A finalist, and 6.5/10. Both visits were the same. We've been there half a dozen times previously and it is always good, friendly and efficient. I neglected to note the price but is was around $9.
Daylesford Seafood Bar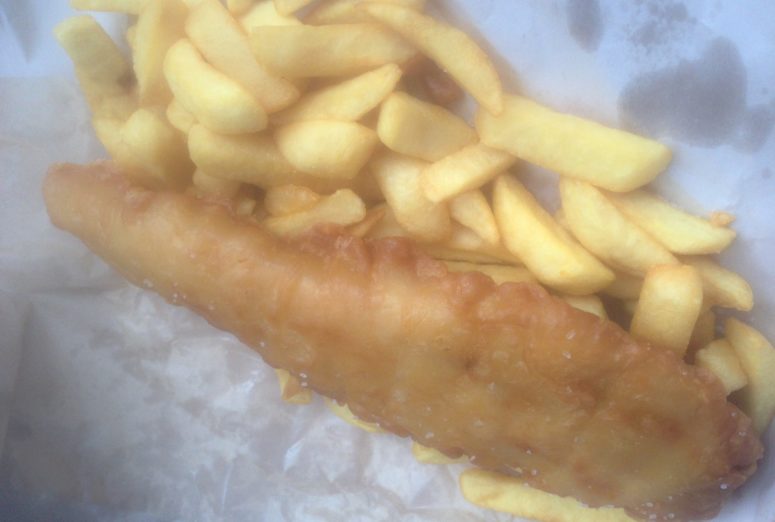 The cooking took about 12 minutes, but they were quite busy. Price was on the expensive side at $10.90, but as the only fish and chip shop in a larger town, they have their own little monopoly going on.
The flake was great – on the thick side, stood up well to the bend test, lovely golden colour, and very tasty.
The chips were more-ish (the kids and I finished them easily), but not the very best either.
Portion size was a little on the small size, but not unacceptable.
Overall very good for a place that could probably get by easily with a lower-quality product. 6.5/10 
The Burger Company
1301 Sturt St
http://www.theburgercompany.com.au/
This was a surprise. It is primarily an American diner style burger restaurant that just happens to sell fish and chips as well. They do takeaway so I gave it a go.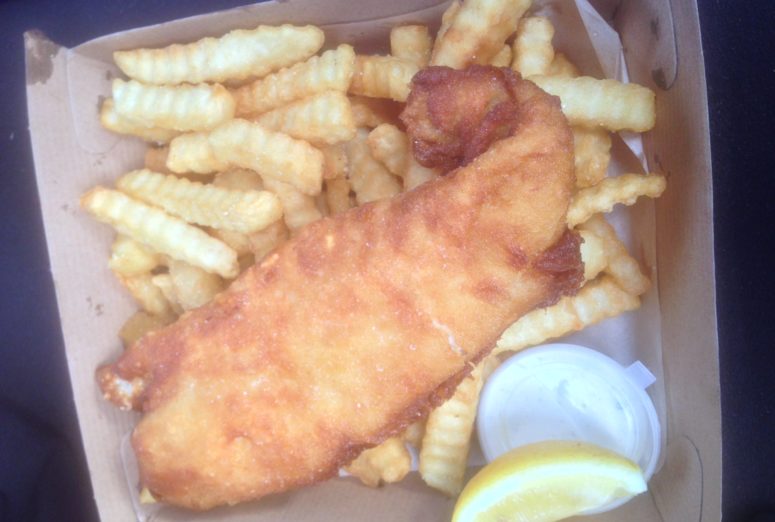 The meal is served in a cardboard box.
The fish doesn't pass the bend test, but the batter is superb and delicious. A bit on the greasy side, as in KFC, but I didn't mind licking my fingers.
The chips look like they are from a supermarket, but they were tasty and more-ish. A little too much salt, so ask for less.
Portion size was not bad, and 9 minutes was the appropriate cooking time.
$9.90 was a fair price, but unfortunately the gave me the Fish and Chips Box (with butterfish) instead of the Flake and Chips I asked for. I didn't mind. 6.5/10
ALSO RECOMMENDED
Follow links for reviews
Gus's on Howitt Street 6/10
Fishery Chick 6/10
Arch Fish Shop 6/10
Brown Hill Fish and Chips 6/10
Norman Street Takeaway 6/10
Sea Blue 6/10
Down South 6/10
Pleasant St South Take Away 6/10
NOT THE BEST
Follow links for reviews
Krackerjacks in Creswick 5/10
Mac's Snacks on Howard 5/10
Apollo 5/10
Steve's 5/10
Blue Sea 5/10
Athens Sea Foods 5/10
Eureka St Fish and Chips 5/10
Latrobe St Fish and Chips 4/10
The Alfredton Fish Shop 4/10
Marty's 4/10


THE WORST
Blue Bell Hotel
I only went there because their sit-down prices are the same as a takeaway. Portion was very small. Chips were thin and dry. Fish was thin and flavourless. After one minute I decided I'd sooner stay hungry.
No pic. 2/10.